Posted on January 15th, 2013 by eric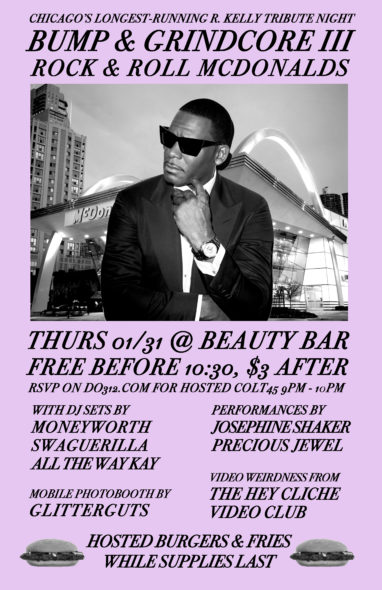 Chicago's longest running R. KELLY TRIBUTE NIGHT throws our THIRD party! A tribute to sex in the kitchen, sex in outer space, sex in the closet, sex at the zoo, mistaken identities, phone calls gone wrong, Chicago, Jesus, the duality of man, murderous dwarves, the PIED PIPER OF R'N'B and his FAVORITE RESTAURANT.
dj sets by
MONEYWORTH
SWAGUERILLA
ALL THE WAY KAY
performances by
JOSEPHINE SHAKER
PRECIOUS JEWEL
Hosted BURGERS and FRIES while supplies last
Mobile photobooth by GLITTERGUTS
Video weirdness from the HEY! CLICHE! VIDEO CLUB
RSVP on Do312 for HOSTED COLT 45 9pm – 10pm
http://do312.com/event/2013/01/31/bump-and-grindcore-3-rock-n-roll-mcdonalds
RSVP on Facebook just because you're already there, right?
https://www.facebook.com/events/479971105382291/
Beauty Bar's Signature Martini & Manicure Special for only $15!
FREE before 10:30, $3 after
Beauty Bar
1444 W. Chicago Ave
Chicago, IL 60642
5pm – 2am | 21+