Posted on June 16th, 2014 by eric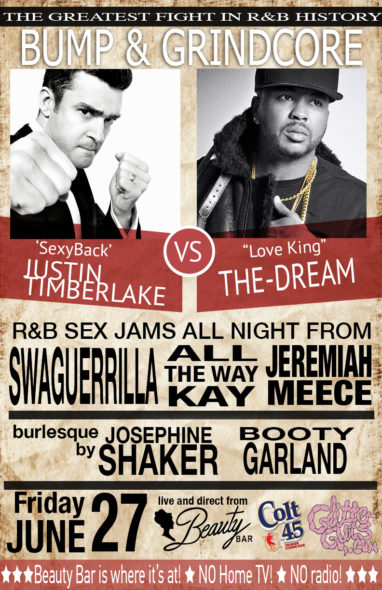 The last few months of Bump and Grindcore have featured tributes to Beyoncé, Aaliyah, and Rihanna.
This month we're back at Beauty Bar with more sex jams, r&b, and burlesque as we put a shine on the boys with Justin Timberlake vs The-Dream!
Music provided by
JEREMIAH MEECE (from the-drum)
Swaguerrilla (Salonathon)
All the Way Kay (Illuminaughty)
Burlesque by
Josephine Shaker
Booty Garland
Hosted by Ernest Wilkins
Portraits by GlitterGuts Photobooth
Exclusive nail art by Wolf, Ram & Hart
Hosted Colt 45 and no cover 9-10pm with an RSVP at Do312
21+, $5 all night
Friday, June 27
Beauty Bar Chicago
1444 W Chicago Ave
Beauty Bar is open Monday thru Friday 5pm-2am, Saturdays 5pm-3am and Sundays 8pm-2am. Remember it's always free before 9pm!
Drink Specials:
Beauty Bar's Signature Martini & Manicure Special for only $15!
You can find more info on Bump & Grindcore on twitter and facebook. If you want to RSVP on facebook, because that is a thing people do I guess, you can do so here.
****Stay tuned for BUMP & GRINDCORE: A TRIBUTE TO NICKI MINAJ on July 18****