Posted on August 27th, 2014 by eric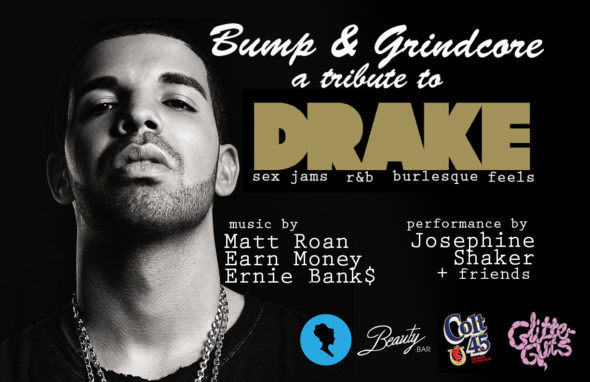 The last few months of Bump and Grindcore have featured tributes to Beyoncé, Aaliyah, Rihanna, Nicki Minaj and The-Dream. For our exclusive unofficial North Coast Music Fest afterparty, we're gonna get sexual and emotional with a tribute to Drake!
BUMP & GRINDCORE
A TRIBUTE TO DRAKE
Music by
MATT ROAN
DJ EARN MONEY
ERNIE BANK$
Burlesque by
JOSEPHINE SHAKER
DARLING SHEAR
Portraits by GlitterGuts Photobooth
Custom nail art by Wolf, Ram & Hart
NO COVER + HOSTED COLT 45 from 9-10pm with your Do312 RSVP!!!
Bump & Grindcore is a safe place for people of all shapes, colors, orientations, and gender expressions to get nasty all up on each other.
21+, $5 all night
Friday, August 29
Beauty Bar Chicago
1444 W Chicago Ave
Beauty Bar is open Monday thru Friday 5pm-2am, Saturdays 5pm-3am and Sundays 8pm-2am.
Drink Specials:
Beauty Bar's Signature Martini & Manicure Special for only $15!
You can find more info on Bump & Grindcore on twitter and facebook. If you want to RSVP on facebook, because that is a thing people do I guess, you can do so here.