Posted on December 13th, 2012 by eric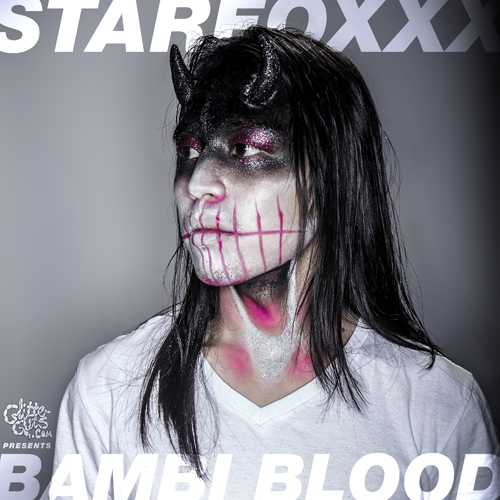 This month we're proud to unveil the first edition of GlitterGuts Presents, wherein we entice (and annoy) some of our favorite artists to make us a mixtape, and then bring them into the studio to create an image that parallels the audio experience.
Starfoxxx has been one of our favorite acts for a while bringing weirdness to the dance music scene, taking juke and moombahton to interesting new places, acting at different times as a trio, a duo, and as a solo project for Dave Beltran, and frequently deleting all traces of their music.
For this first mix, we enlisted Starfoxxx to make us an all brujaton mix, brujaton being a genre of witchy moombah tunes that they invented.  Just in time for the end of the Mayan calendar and the beginning of the terrifying new world we're all to live in, Starfoxxx presents their brujaton opus BAMBI BLOOD, exclusive to GltterGuts.com.
It's music to get down to in elephant graveyards and baroque cemeteries, a dark cartoon soundtrack to skeletons dancing on a pile of bones in a haunted bordello, a chopped and screwed mix to take DMT to. Twice.
Stream it from our soundcloud or download it here (right-click to save file).
The album cover was designed by The Hood Internet's Steve Reidell, who we can hopefully bring in for his own GlitterGuts Presents mix soon. The makeup was done by Jack Absinthe. The photo was done by us, and that's why it's here.