Posted on November 20th, 2014 by eric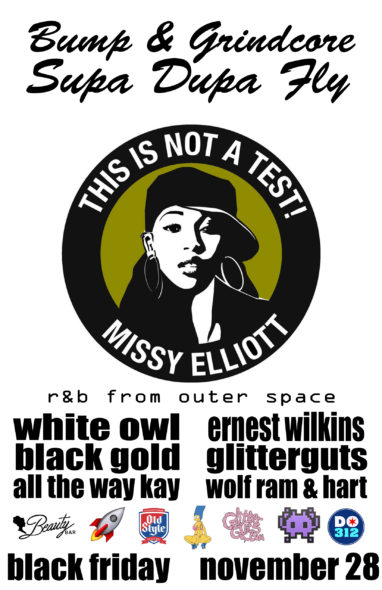 BLACK FRIDAY…. put on your inflatable spacesuits and blacklight makeup. After recent tributes to Big Freedia, Nicki Minaj, Kanye and Drake, Beauty Bar's monthly night of r&b, sex jams, and hiphop is going local with a tribute to Missy Misdemeanor, it's…
BUMP & GRINDCORE:
SUPA DUPA FLY
A TRIBUTE TO MISSY ELLIOTT
music by
ALL THE WAY KAY
DJ WHITE OWL
BLACK GOLD
Hosted by
ERNEST WILKINS
Portraits by GlitterGuts
Custom nail art by Wolf, Ram & Hart
NO COVER + OLD STYLE from 9-10pm with your Do312 RSVP!!
Bump & Grindcore is a safe place for people of all shapes, colors, orientations, and gender expressions to get nasty all up on each other.
21+, $5 all night
Friday, November 28
Beauty Bar Chicago
1444 W Chicago Ave
Beauty Bar is open Monday thru Friday 5pm-2am, Saturdays 5pm-3am and Sundays 8pm-2am.
Beauty Bar's Signature Martini & Manicure Special for only $15!