Posted on September 21st, 2014 by eric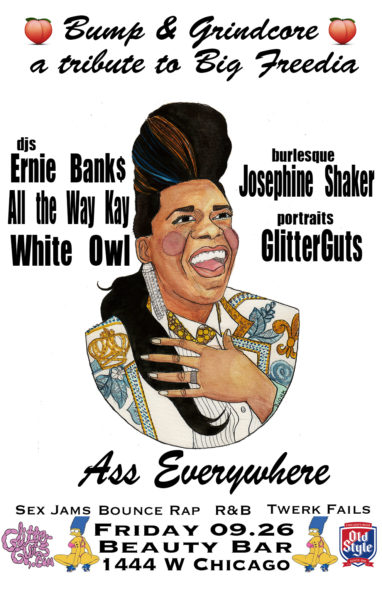 Beauty Bar's monthly night of r&b, sex jams, and burlesque is back with a tribute to the Crescent City, the posterior, and the Queen of bounce. It's….
BUMP & GRINDCORE
ASS EVERYWHERE
A TRIBUTE TO BIG FREEDIA
music by
WHITE OWL
ALL THE WAY KAY
ERNIE BANK$ (Cash Money Records set)
Hosted by
JOSEPHINE SHAKER
Portraits by GlitterGuts
Custom nail art by Wolf, Ram & Hart
NO COVER + HOSTED OLD STYLE from 9-10pm with your Do312 RSVP!!
Bump & Grindcore is a safe place for people of all shapes, colors, orientations, and gender expressions to get nasty all up on each other.
21+, $5 all night
Friday, September 26
Beauty Bar Chicago
1444 W Chicago Ave
Beauty Bar is open Monday thru Friday 5pm-2am, Saturdays 5pm-3am and Sundays 8pm-2am.
Drink Specials:
Beauty Bar's Signature Martini & Manicure Special for only $15!